August 20th, 2011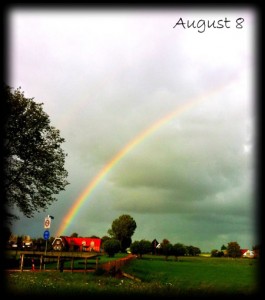 August 8-
Marcel and I were on our way home from somewhere- and we looked off to the right, outside of the car window while stopped at a red light and there was a double rainbow.  
I'm not even sure if you can see the second one in this small picture- but it's right above the other- close to the tree.  It's ever so faint- but it's there.       I happen to love rainbows, and since I haven't seen one in a while- I was hating that I didn't have my Nikon with me, but hoping that I could at least get a shot with my 'eye' (iPhone).   I did, just as the light was changing- and after running it through PS Express- this was the resulting image.  
It isn't the best or most high quality- but it captured the moment.   Not to mention it came at just the perfect time- because I was feeling a little unsure about a few things, and this was the confirmation that I needed. 
I love moments like that.    There's nothing quite like them.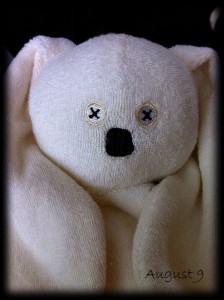 August 9-
I'm not sure the name of this 'bunny'  but it is Natalie's little toy.    It is soft and cute- but my friend Kimmie and I have decided that the eyes are creepy-  you know- sort of like those skull and cross bone eyes that you find on the side of a poison bottle.    I know- I know- it's supposed to look like buttons, and it does, but it is fun teasing Bobbi about it anyway.   
After all- she teases me enough, so why not?   Little Natalie seems to love it- and at least with eyes like that- you don't have to worry about one of them getting chewed off and there being a gaping hole left where the eye once was-  That, in my opinion, would be much creepier.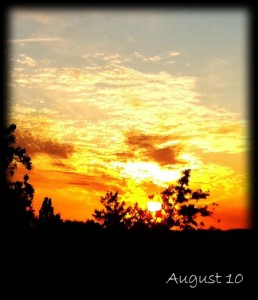 August 10-
I noticed that the evenings are getting cooler.   Well, technically I'm not sure that they are cooling off in terms of temps, but there is a crispness to the air that I haven't been noticing until recently- which is a sure sign that Fall is on the way.
I have been trying to sit outside in the evenings when the weather permits- and this is one of the first things I noticed- along with this amazing sunset.   
This year is flying by-  Hard to believe in less than two weeks that it will be September.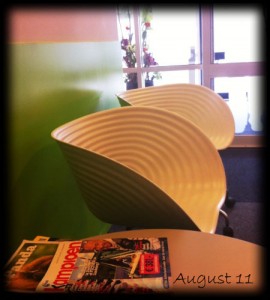 August 11-
Marcel and I had an appointment on this day and I thought the chairs were cool.  Suprisingly, in spite of not looking comfortable, they actually were and I actually thought about grabbing one and taking it home with me to roll around in the house with.
Ok, that's not entirely the truth- but I did think they would look cool in a house with ultra-modern decor.   Ours is more of a classic style, so wouldn't work at all, but I still thought they were fun.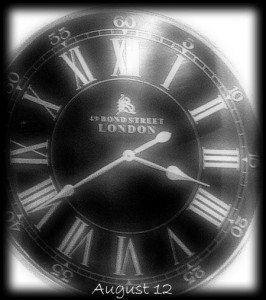 August 12-
I processed this picture of the clock several times on top of each other to give it this dream- like feel.    The way I've felt as of late- running from one thing to the next is almost as though everything happening is surreal- and that I'm Alice in Wonderland and late for a very important date. 
This clock gave me that feeling-    Thankfully, I'm not late for anything, but there is much happening around me- with the business and also with the pending arrival of my parents, plus the plannings of all the upcoming fun.     The clock is ticking and I definitely feel it.  I'm ready to sit back, relax and just enjoy myself for a while.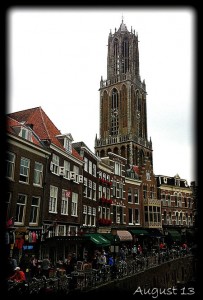 August 13-
This is a picture of  "Dom Tower" in the city of Utrecht.    It is quite an amazing tower and several years ago, my friend Vivian and I climbed to the top of it.   All 400 something steps-   It is an amazing bell tower, and the last area to the top is a long, winding staircase- one where you wonder if you'll ever reach the top.   We did-    and the view was breathtaking.
We may visit this city with mom and dad, while we are out and about having adventures- and if so- we may find ourselves peeking over at the view from the top.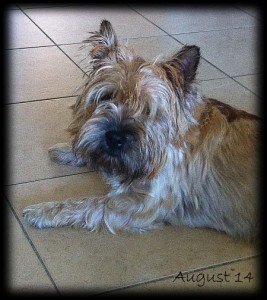 August 14-
As you can see- Sunday's picture was none other than my favorite little canine, JJ.
He was in serious need of having the long hair clipped from his face- something that I promptly did after this picture was made.  I know it would seem as though he can't see with all that fur hanging in front of his face- but I'm not certain that he can tell the difference between then and how it looks now.     At least I can see his eyes now- which makes me smile, since they are so expressive and never fail to make me smile.
I was a little lot late with getting these posted this week, but better late than never right?     Tomorrow is the end of yet another week and I'm going to try to get pictures posted from this week so that I'm not so far behind-   This upcoming week is going to be jam packed with preparations for our upcoming travels so that will be one less thing I have to remember to post.
Happy upcoming week all! 
One Response to "August 8-14 (Photo 365)"