August 3rd, 2012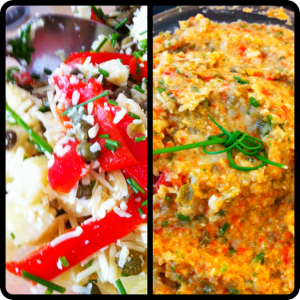 I'm part of a food group on Facebook and a while back we started doing food challenges.   We usually do two per month- (one mid-month and one the last week of the month)  The idea is to create something with the challenge ingredients (or theme) that you've never made before.
The end of the month challenge was to create something using artichokes.   I don't think I've ever made anything with artichokes and I've never bought fresh ones.  I had planned to do that- but I spent some time traveling last weekend and was unable to find any in the places where I traveled to- so I ended up using jarred.    I knew that I wanted to make a tapenade, because I'd tried some at a organic farmer's market I'd gone to several times.  Every time I go- I sample the artichoke tapenade and it's divine.
This isn't a replica since this one actually has roasted red peppers and the other didn't- plus this one has capers (which I also love).
It was a pretty simple and straight forward recipe- and I loved it.  I do think I would like it even better with fresh roasted artichokes, since the jarred ones do have a little 'pickled' flavor.   I think I'd perefer the pureness of the roasted.   It's great on Wasa crackers, and I'm also thinking about adding a little to the top of some fish and baking it in the oven.   It also has a little fresh grated parmesean cheese in it- so I think it would really boost the flavor of some cod, plus still be healthy.
What about you?  Have you ever cooked with artichokes?  If so, what's your favorite dish?