September 13th, 2012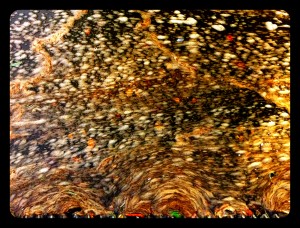 It's no secret to anyone who knows me well that Van Gogh's 'Sunflowers' and 'Starry Nights' are two of my favorite paintings.   I am a huge fan of the flower itself and also the night skies, so I guess it makes sense, at least to me, that I would love both paintings so much.
Last week I was out walking with a good friend.   In fact, I was walking back with her to the train station and I looked in the water and saw all this alage.  It looked gross, until we inspected it closer and around the drain areas the algae seemed to gather and swirl.   Immediately I thought of 'Starry Nights' , so when I came back through I took a photo of it with my iPhone, bumped up the color a little and voila'   Mother Nature's version of 'Starrry Nights'.    Art and beauty are everywhere we look- if we're just open to see it.