May 1st, 2011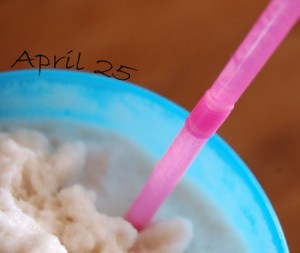 April 25-
As most of you who read this blog regularly (and some who don't) know, I've been walking regularly as of late in an effort to not only get healthier, but also to win a challenge posed to me by my friend Micha.  The challenge is to see which one of us can walk the furthest (using our Nike + app) in a month.   So far- we are neck -n – neck, so it will be interesting to see which one of us wins.   At one point- I was 20 miles behind her because I had blisters and right after some major cramps associated with that wonderful female monthly thing.    As of right now- we are tied.
In an effort to help build lean muscle mass, I've been using Whey Protein, so on Monday I created this little frozen concoction out of the whey protein, ice cubes, a little coffee and milk.   It wasn't quite a Starbucks Frappuccino, but it was good.   I've since come up with another idea- that I'll be trying sometime this coming week.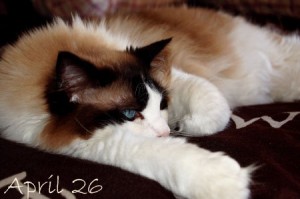 April 26-
Last Tuesday I caught my favorite feline- Mister Mistoffelees napping on the guest bed.   Of course,  if he could talk, he would assure you that he is absolutely no guest and that the bed isn't meant for anyone except him.   He will share though, if he must. 
When we do have actual guests, he does have to vacate 'his' room and make other sleeping arrangements.  He pretends not to mind, but give him two seconds and he'll slip back into the room and curl up on the bed, or stand at the door in the early morning hours scratching at the door asking to be let in.    Of course, the word no doesn't seem to be in his feline vocabulary, so he tends to scratch at the door until he gets his way.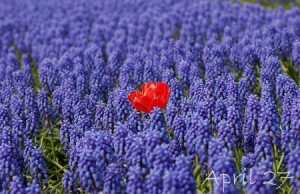 April 27-
Wednesday I decided to go tiptoe through the tulips- literally.   I love Spring and in spite of the high wind- I still managed to get this and a few other shots of the tulips.    Since storms were forcast to move in, I went during the middle of the afternoon, which wasn't the ideal lighting, but it could have been worse.
Every year- I always look for that one that stands out-  This year-  it's a stray red tulip in a field of literally thousands of grape hyacinths.    My tiptoeing didn't last as long as I'd hoped because of the cooler temps and high winds, but this week will bring new days and opportunities.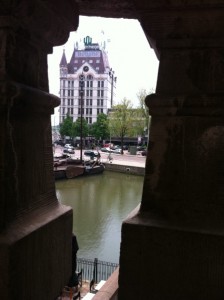 April 28-
Thursday found me in a town that I'd never had the opportunity to explore.   I met up with a group of amazing ladies-  some old friends and some new friends.  We had lunch-laughed- talked – took our own little walking tour of some of the city- and even ate cupcakes.   I'll admit that it was probably one of the best cupcakes I've ever eaten in my life-   The flavor was Oreo- and all I can say is that it's a good thing I don't live in the area, or I'd be frequenting the cupcake shop (Alice in Cakeland) often.  
The photo- was taken through a concrete fence railing of a building on the harbor.   It was sprinkling rain and I'd left my real camera at home because of the threat of rain- but the 'eye' (iPhone) didn't do a bad job.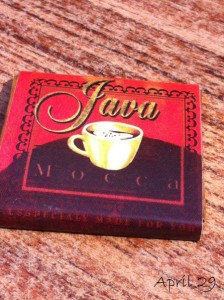 April 29-
It really is the little things that amuse me and make me smile and this is no exception.
This is yet another 'eye' (iPhone) picture that I took while out having coffee with my favorite guy (Marcel).   We were given little chocolates with our coffee and I loved the retro packaging.    This was as close as I got to the chocolate.   I passed it on to Marcel and he ate them both.  He said they were pretty good, and I'll take him at his word.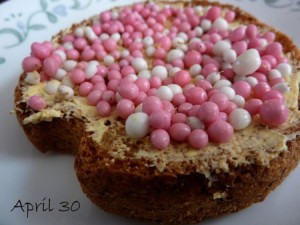 April 30-
On April 28th, my dear friend Bobbi gave birth to a daughter-  Her name is Natalie and she's absolutely gorgeous.   Miss Natalie was a week early and I'd been telling Bobbi for a while that I thought she would be a little early- and sure enough, she was.    We'd also already had plans to stop in and see them on Saturday, and after she confirmed that she still wanted us to stop in- we walked the 3 miles each way to her home to see her and the rest of the beautiful family.    This is a delicious little cracker type thing at was given us in honor of the very special occasion.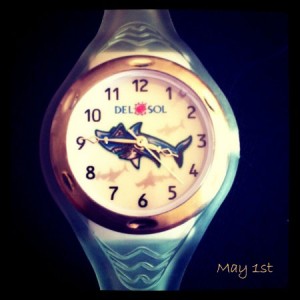 May 1-
Is it really May already?   It seems like just yesterday we were ringing in the New Year and here we are knocking on the half way point of 2011.  I guess time flies when you're having fun!  
Speaking of time-   this is a picture of the watch that I bought from Del Sol when I was in Cozumel in December.   It's a kids watch, but I thought it was cute-plus I loved the fact that it was something fun I could wear when out at the beach or when I'm working out- or whatever.
For those of you who aren't familiar with Del Sol-  all of their products change color when exposed to the sun.   This watch has a hint of blue to it inside- but when you go outside, it turns a bright blue.  Pretty cool isn't it?   They have just about everything you can think of- including nail polish- something else I bought myself while I was browsing their store.    In fact, now that it's time for sandals and bare feet- looks like maybe I should pull out that nail polish and paint my toes.
2 Responses to "April 25- May 1 – Photo 365"