April 24th, 2011
Monday- April 18-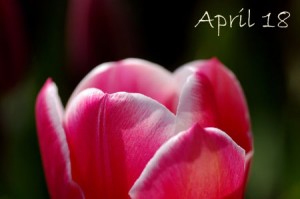 The week started off with Marcel and I making a quick trip to a somewhat sleepy town near the beach to see if the tulips were in bloom.  We got a late start (or at least later than I would have liked- in terms of lighting), but in spite of the fields not being fully in bloom; I did find a couple.
I took several shots and even though they weren't exactly what I was hoping for- this is the one that I chose for Monday.   The softness of the petals remind me of just how fragile life is- and how we should make the best out of every moment that we're given.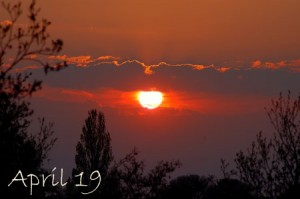 Tuesday- April 19-   I had actually taken a photo at the hospital that I'd planned on using for my picture for this day, but as the sun slowly started sinking into the horizon, I couldn't help but notice the beautiful sunset.    I actually noticed the golden glow in the house first, so I headed to a window to see what the sky looked like.   This photo was the result of that.     There is something peaceful about the sunset- knowing that the day has passed and no matter what we may have encountered- tomorrow is always another day.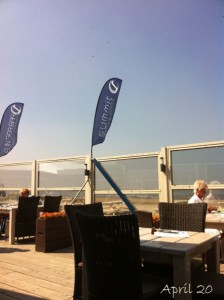 Wednesday- April 20-  I was thrilled that my friend Anna decided to come over for a visit and since the weather was so perfect, and Marcel had taken the evening before free, we decided rather than walk around the neighborhood (which we had originally intended on doing)- that we would instead head to the beach. 
I needed to get away from it all for a while, and walking along the shoreline with Anna, JJ and Marcel was exactly what the doctor ordered.  The water was tranquil and I found myself immediately relaxed.   Anna and I walked six miles that day- (Marcel and JJ, a little less), but at the halfway point we stopped at one of my favorite beach cafe's for lunch.    This picture was made while we were waiting for lunch to arrive. 
This day brought the reminder that no matter what is happening around us that sometimes we really should just 'press pause' and do something for ourselves that we enjoy.  In my case- it was a walk on the beach with a friend and two of my favorite guy's.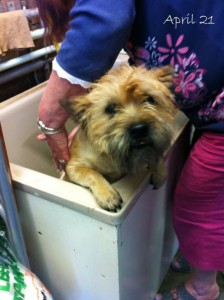 Thursday- April 21-   JJ was LONG overdue a trip to be groomed, so we made the trek an hour away to the breeder where we bought JJ so that she could pluck him.   Cairn Terriers generally should have their top coat plucked every so often- (we do ours twice a year- but some do it more often if they prefer a shorter look).   It isn't painful as long as the fur is 'ripe' but it seems that everytime we have JJ plucked he isn't ready all over.  It's as though parts of his body is ready at different times, and some parts (like his legs) never seem to get ready.    It was pretty clear to us that this was the case yet again and it was hurting him.   That's something I didn't even remotely like the idea of- and neither did the breeder.    So we had a choice-  bring him back later (which was no guarantee that he'd be ready all over) or shave him.    Cairn Terriers aren't supposed to be shaved, because it changes their hair and their look BUT since this is one of those things that happens occasionally and we personally don't want him hurting because his fur isn't ready all-over the way it should be,  we decided to have him shaved.    It means he won't ever be able to be plucked again (aside from his head) and that his hair will become more fine instead of course, but ultimately- my concern is for JJ.    I was assured there would be no skin problems associated with it- and I hope she's right.   She's the breeder, so I trust her.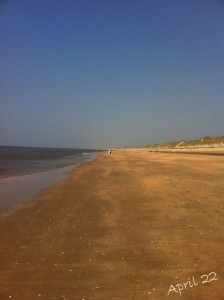 Friday- April 22-   Marcel had the day off, so off we went again to the beach with JJ in tow.   It was another perfect day, which meant another great day to walk.   I decided that I wanted to break my 6 mile record from Wednesday,  so I did like Forrest Gump and started walking.   I walked and walked and walked some more.   At the 2 1/2 mile point, Marcel and JJ stopped, but I kept on walking.   I stopped at 4 miles and then walked back to where I'd left them behind.    I ended with a little bit over 8 miles and even though I was tired when I finished- I was happy I did it.   I was definitely feeling 'stress-free'.
There is nothing quite like walking along- hearing the sound of the waves crashing against the shore, miles and miles of sandy beaches in front of you and blue skies above.   It's as close to heaven on Earth as it gets- at least I think so.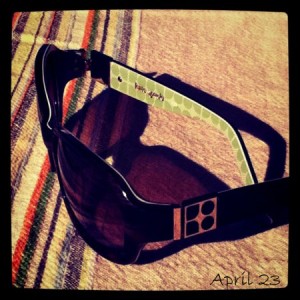 Saturday- April 23-   With the fabulous weather that we've been having, Marcel and I decided to have our dinner outside the past couple of days.
I can't imagine sitting inside having dinner when the weather is so absolutely perfect.   While I was bringing dinner to the table outside, I had my favorite sunglasses lying on the table and thought it would be a great shot for Saturday.  I bought these online last year without actually trying them on- something I generally don't do, but it was love from the moment I tried them on.    I have this 'thing' about sunglasses-   I wear them rain or shine, and when I was younger and that song- "I wear my sunglasses at night" came out-   Guess who wore their sunglasses at night?  You guessed it-  Yours truely!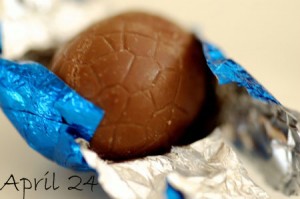 Sunday- April 24- Happy Easter!    The holiday isn't at all about chocolate eggs and a giant bunny that delivers lots of sugary goodness to a basket in your home, but the resurrection of Jesus Christ from the tomb. 
I did have some chocolate eggs in the house and Marcel was about to have one as a late afternoon snack, so I decided to open the blue foil and grab a quick shot before giving it to him.   I was definitely tempted to have a bite all my own, but since I'm trying to be more conscious of what I eat- I refrained.
Something that did make me smile this morning-   I decide to go for a 5k walk this morning and took JJ along with me.   It was a leisurely pace since I wasn't in a hurry and really wanted to do some reflecting and also enjoy the gorgeous day.   As I was walking past a row of homes, I noticed some egg-sized chocolates hanging from a string in the bushes.   As I observed, I found many- obviously hidden by someone for their grandchildren to find.    I continued with my walk and at one point passed the homes again- the eggs were still hanging- some easy to find- and others hidden just out of sight.   I can only imagine the joy on the childrens faces as they found them.     A simple reminder that it's the simple things in life that can bring the greatest joy.
One Response to "April 18-24 – Photo 365"