January 13th, 2014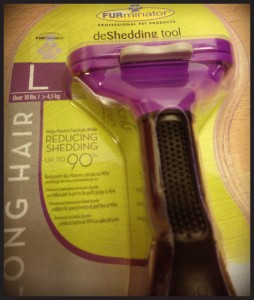 Back during the holidays, I answered a prize question that our vet asked on their Facebook page, and won a gift card to our local pet store.   At the time, I planned to use it get a little toy for both JJ and Mister M. for their Christmas stockings, but I ended up being so busy with work that Christmas came and went without ever doing that.
One day I was reading posts on my favorite phone app. (Happier), and someone mentioned that they'd purchased the Furminator to help with keeping their pets groomed.     Several other people gave rave reviews about it, and since I'd never heard of the Furminator, I decided to do a little Internet browsing.
I did quite a bit of reading and research, and everything I saw was positive.   From the information, I decided to price them, and even though they were not 'inexpensive'  (around 40.00 each), I knew that if it would help with Mister M.'s horrible shedding during the Spring and Summer months, that it would be a Godsend.
Then Marcel reminded me that we still had the gift card to use, and that if the pet store carried the Furminator, that it would save us about half on the price.   Again, back to the computer- only this time to see if the website carried them.   They did, and after a quick call to our local pet store to confirm they had one in stock- we ran out and picked it up.
Even though Mister M. doesn't shed 'as bad' during the winter months, I was literally blown away at just how much hair it pulled from him, so I know this is going to be a great tool in keeping him groomed throughout the year.     I love discoveries like this, and love sharing them even more, so if you have a pet who has long hair- or who sheds, the Furminator could be an answer to your prayers.