October 26th, 2012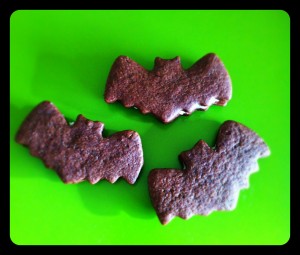 I've had yet another one of those days where I really have no idea where the time has gone.  One minute it was 10 a.m. and in what seemed like the blink of an eye- it was suddenly several hours later.    I guess time flies when you're having fun, right?
Part of my agenda today was to whip up some cookies and other goodies for a cookie exchange that I'm taking part of.   Each person who participates is given a name that's drawn at random- and that's the person you create Fall themed cookies for.    Then you arrange a time frame that works for both of you and mail them around the agreed date.
Well, since I'm going to physically see my person tomorrow, I asked if it was ok with her if I brought along my little creations and she said yes.    So in addition to several other items, these chocolate bat sandwich cookies were part of the assortment.   Aren't they cute?    I have to admit that I ate a couple of them myself- and while I do like Oreo's- I found these to be better, and of course, they're made from scratch- so no funny ingredients that you can't pronounce.
I hope she and her family will enjoy these and the other goodies I've made for them.  I have a feeling they will.