February 7th, 2013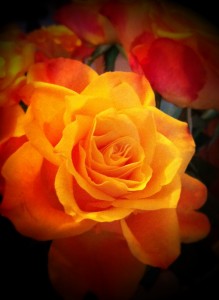 It's almost one week later, but the roses Marcel gave me for our 9th anniversary are fully open and gorgeous.   I was running here and there most of the day today- but during dinner I really noticed just how gorgeous they had become.   This picture definitely doesn't do them justice.
I still can't believe it has been 9 years since we said our 'I Do's' and even though we've had plenty of ups and down's – we've continued on and love each other now more than ever.   I'm far from perfect and so is he, but our relationship is perfect for us-  and for that I'm grateful.
The past few nights I've started unplugging (turning off the phone completely- something I never do) at around 9 and my sleep has improved exponentially, which has in turn had other positive effects on my life.    Tonight- I'm home alone but look forward to catching up on more work and having a little more quiet time.
Life is good.
One Response to "A Rose by Any Other Name"