September 20th, 2010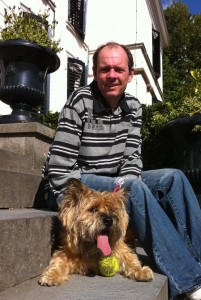 I took this picture on Saturday afternoon when Marcel and I decided to take JJ to a park in another city.  We took him there when he was a puppy and since it isn't one of his usual places; he was wild with anticipation.    When we were headed back to the car and both doggie and Marcel were popped out from all the walking, I decided to take the chance to see if I could get a shot of the two of them together.     I thought it turned out pretty good.
Marcel turns 45 next month and he's decided to have a family only party at one of our favorite beach cafe's.   I left it up to him to decide what he wanted to do for his birthday and that's what he decided after much deliberation.    I'm in the process of whipping up some invitations so that I can get them ordered and sent out in time.  His birthday? 10-10-10   Pretty cool isn't it?
4 Responses to "A Man and His Dog"