June 28th, 2010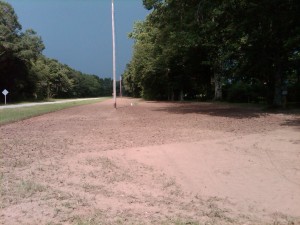 Y'all forgive me for being a little late with this past week's 5 O' Clock Friday's submissions.   It was a crazy weekend and I spent part of it with a migraine so needless to say, it wasn't the most ideal weekend ever.    I'm assuming that the next couple of weekends are going to be much better since we have a BBQ that I've been planning for quite some time coming up, plus my birthday is just around the corner, which means celebration time, but I digress.   
The picture to your left was taken by none other than my dear mommy.   She is standing at the driveway that goes into their yard, looking back across their property.   The dirt represents where the through-road used to be.   Several years ago the county decided they wanted to widen and move the road, so they worked out some sort of deal with my parents, since they owned property on both sides of the road.        You can see the road to the left of the picture.      The county is getting ready to put a fence down the property line where the old road used to be and I know this is something that my parents are ready for.     My poor dad and Mitch (their only nearby neighbor) have been working hard to not only keep the dirt from washing away that the county put in (Those county guys aren't the best planners), but they are also trying to keep the 4-wheelers out of there and those rednecks to decide to come along and hunt deer illegally.      It is quite the adventure when we are at my parents during hunting season, and the game warden definitely earns his pay from their neighborhood alone.
In additon to mom's submission, my friend A. also provided us with yet another gorgeous picture, but in order to see it, you'll need to visit Backroads Photo Blog, which is where she has that along with many other wonderful photos and stories to share. Check it out, you won't be disappointed, I can assure you.
If any of you have submissions but forgot to make them, please feel free to send them in to lori at this website (simplywizardress.com). I will be happy to share them, and feel free to pass this on to your other friends if you'd like, or even participate yourself. If you are a blogger and share it on your blog, let me know so I can link you.