March 12th, 2015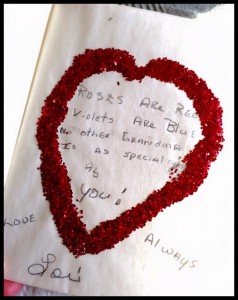 .Today-  as I was getting something out of a drawer, I came across an old calendar from 2007.  Inside of it were various things-  most of which I tossed in the garbage, but amongst them was a worn envelope-  with Happy Mother's Day Grandma Tanner written in my 'young' handwriting.   I would recognize that handwriting anywhere.
I opened the card, and inside was a Mother's Day greeting card from our family to my grandma.   Also inside was this hand-made card that I'd created for my grandmother.   (see photo to right)
I shared this photo, and the thoughts that came pouring to mind on Facebook-   Below is what I shared:
There are moments that are preserved in time, that even when they slip from our minds- a simple card, made with love many years ago- can flood the mind with beautiful memories.
(Mother's Day card I made for my grandmother Tanner- circa late 1970's. )
It is often said that we rarely recognize those special/ magical moments as they are happening, but instead, as we later (sometimes much later) look back upon them realize their true value.
I wonder if we were able to step outside of the fact that the 'ordinary' moments that we take for granted are actually 'extraordinary' moments in the making, if we would embrace and enjoy them even more?