April 24th, 2010
I was so excited to wake up this morning to find that I had two new submissions for 5 O' Clock Friday's. I know it's sometimes hard to remember to take a picture at exactly five, and my friend A. shared a gorgeous picture of an Iris on her blog Backroads Photo Blog. I love irises and even though she was like me and unable to take a picture at exactly 5, it still counts. (The concept is a good one, but we don't get lost in the details here). I strongly suggest you check out not only the picture of the iris, but also the other beautiful photographs on her blog.
Second, I received a very cool picture from my friend R. that I met on another blogging website years ago. (I'm not sure if she's still blogging, but if she is, I'll add a link to her blog as well as soon as I find out. In fact, I met R. and A. on the same site, which met its demise a few years ago) Yesterday at 5, R. peered outside the window where she was working and took a shot of the new studen union which has just opened. It's a beautiful building and a great shot.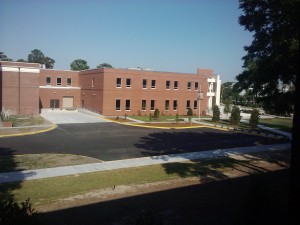 Last but certainly not least is a picture that mom just sent me from her 5 O' Clock Friday.   The county came in and moved the old road that was in front of their home, and the old road is on my parents property.   They are bringing in dirt and covering the old road, which is going to become a part of their yard.  I'm sure they'll be glad when they can get some grass and bushes planted as opposed to it being a patch of brown in their otherwise very green and colorful yard.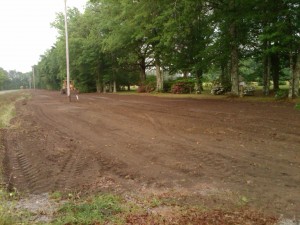 This is the thing I love about 5 O' Clock Friday's- you can take a picture of anything you want. As long as it's not of questionable nature- I'll share it here. You don't have to be a blogger. All you need to do is take a picture at 5 pm. on Friday and send it in to me. It's that simple.
I'll add more as they come in, and thanks SO much to R. and A. for joining in.