July 24th, 2010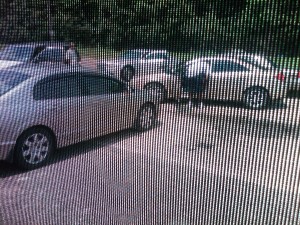 This week, mom didn't forget her 5 O' Clock Friday's submission and just as she was about to leave work the police had pulled up next door and were doing a drug control or some type of control.  I don't know if anyone got arrested, but mom was able to get  a shot through the door without anyone noticing she was there.   
These kind of pictures always make me curious as to the 'rest of the story'.   I didn't see or hear anything about it on the news, so I guess it wasn't that big of a deal-   Still, I'd like to know what was going on.
In other news- my friend Ruth sent a picture for last week's 5 O' Friday's, but I didn't see it until later in the week, so I'm adding it with her submission from this week.   They were away for a little holiday in DC and they came in their room to find that housekeeping had made their bed and placed their little monkey on the bed- just so as opposed to tossing him on there in any ole' position.  I thought it was adorable.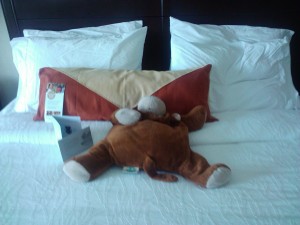 This week, Ruth was in her office when 5 rolled around and she decided to snap a picture of the beautiful aloe plant.    Thanks y'all for sharing a little bit of your lives with us and showing us what was happening in your life when 5 O' Clock rolled around.
It isn't too late to send in your submission for 5 O' Clock Friday's.  Email me your pictures at lori in care of this websites (simplywizardress.com) and I'll share them here-   or if you have a blog of your own and prefer to share it there, let me know and I'll link it from here.
Hope everyone is having a great weekend so far!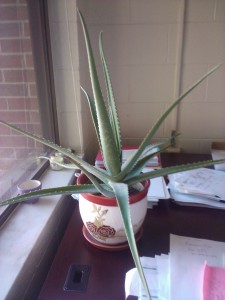 One Response to "5 O' Clock Friday's Submissions"