June 12th, 2010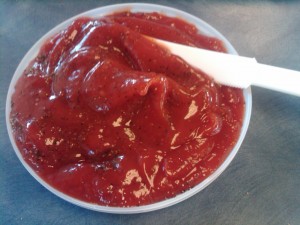 This is mom's submission this week for 5 O' Clock Friday's.   As you can see, she was at a restaurant yesterday when 5 rolled around, and since I talked to her and diddy on the phone, I happen to know that it was Burger King.  
She actually sent me another picture, but I wasn't sure if I was supposed to post it or if it was for my own viewing pleasure, so I kept it.   Diddy also sent one, but again, I wasn't sure if I was supposed to share it, so until I talk to them and find out, it will just be this one.
In case you haven't guessed, it's a lid to a cup filled with catsup.   I wouldn't be surprised if there was some hot sauce mixed in with it, but this is something mom and diddy have been doing when they visit a hamburger place for as long as I know.   
Yesterday was also their 45th wedding anniversary, and since my adorable nephew had an All-Star baseball game at 6, they bypassed going out for a 'real' dinner together so they could make it to the game on time.   
For those of you who haven't participated in 5 O' Clock Friday's-  Feel free to send me your pictures-  Taken around 5 pm  to lori @ this website address .com .    I'll share them here-   or if you put them on your own blog let me know where and I'll link you.
One Response to "5 O' Clock Friday's (Submissions)"