February 5th, 2011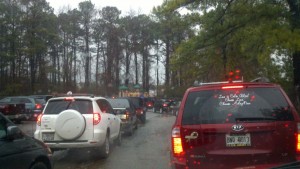 Rain seemed to be the theme for most of the South yesterday.  My friend Vivi sent this in to me as she was sitting in line at school waiting to pick up her children.    As you can see, the weather there was made more for a duck than us humans.
I am always excited to see what 5 O' Clock Friday's brings and I'm always excited when people participate- so thank you Vivi!  I hope you share more of your Friday's in the weeks to come.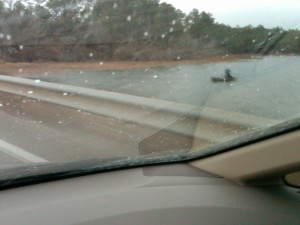 Keeping with the rain theme was mom's submission.   She was driving across the dam (in the pouring rain) and saw a lone fisherman on the lake.  She decided to take a quick shot with her Blackberry (not something I'd recommend while driving) and share with us.   
I'm glad she did, and all I can say is that the person fishing must be one dedicated fisherman.  There's no way I'd be out in the middle of the lake fishing (or anywhere else for that matter) in the pouring rain.   I hope he was able to catch something to make it worth his while.
Thanks y'all for sending in your pictures for this week's 5 O' Clock Friday's.   If you took a picture but forgot to send it in- feel free to do so.  I'm not much for time schedules- so I'm happy to still share it with the masses if you send it in.   Send it to lori in care of this website (simplywizardress.com) and I'll post it.
If not, there's always next week!
2 Responses to "5 O' Clock Friday's Submissions"