October 24th, 2010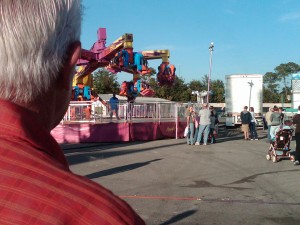 I'm really glad that since I forgot my own 5 O' Clock Friday's submission this week that mom and Maggie didn't let me down.    Thanks y'all.  This week, it's fair time in Jackson County and mom and diddy decided to make their annual trek to check things out.     I haven't been to the fair in J.C. since 2004 and I remember thinking it was so small.     I guess when you're younger, things seem so much larger-  or maybe it was larger back then; I'm not really sure anymore.
This is a picture looking over diddy's shoulder at one of the rides at the fair.   I'm not really sure if mom intended for me to share this one, since she sent me several, but I liked the perspective, so I'm sharing it.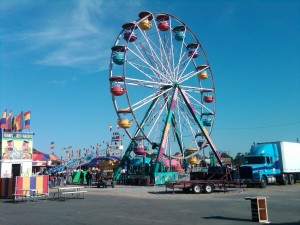 The Ferris Wheel has always been one of my favorites and one of these days when I get to London, I'm going to ride the London Eye- because it reminds me of a giant Ferris Wheel (plus I hear you can see for miles and miles).   The thing that particularly struck me about this picture (aside from the beautiful blue skies) is the various colored cart things (what are those things called anyway?)  that you sit in while riding the wheel.    Something about that color just made me smile.   I also noticed the various flags on some sort of stand to the left, and one of them actually looks like a Dutch flag and variou sothers that I can't be certain about.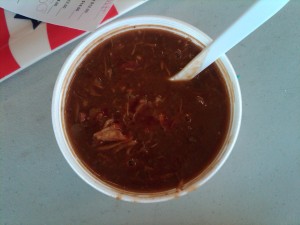 Last, but certainly not least-  No trip to the fair would be complete without a bowl of gumbo.   There are various church and other organizations that have booths serving food to raise money for different projects and there's always a buzz about who has the best gumbo.    You can usually tell by the number of people walking away from a particular place with a bowl of the steaming hot bowl of bliss.     I haven't asked mom where they got theres, but I'll do that today when I call her.
Thanks mom for sharing with us a little of your fair experience.  I wish I'd been there.   Remember the chocolate cake I entered when I was 11 or 12 and won a special ribbon for it being one of the best cakes there?   Ahh, those were the days-
4 Responses to "5 O' Clock Friday's Submissions"