September 5th, 2010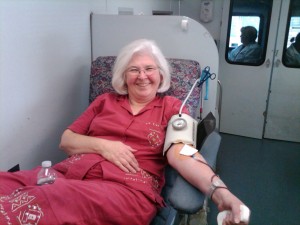 Mom's 5 O' Clock Friday's picture is actually a picture of herself.   It all started when she sent me the 5 O' Clock Friday's picture of the blood mobile.  I called her and she was actually sitting in the chair you see here, probably in a very similar position.   I told her I didn't want to blood mobile, but instead I would like a picture of HER giving blood.  
The nurse was so excited to take the picture and once mom and I got off the phone, she sent it my way.  They titled the picture 'saving lives' and that's exactly what they're doing.  Diddy also gave blood and they possibly saved two lives that day.      I like this picture because it not only shows mom, but it also is a great 5 O' Clock Friday's picture that carries the message of how important it is to be a blood donor.
Thanks mom-  and thanks nurse who helped and actually took the picture.
In addition, my very sweet and crafty friend Kimmie also shared her 5 O' Clock Friday's photo, but she did it via her blog titled, Misadventures of Mub. She's very creative and I always leave her blog feeling inspired, so you should definitely check her out.
3 Responses to "5 O' Clock Friday's Submission (Saving Lives)"