August 21st, 2010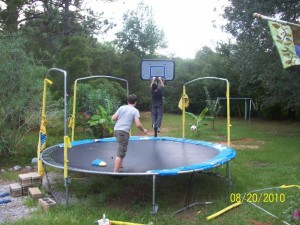 This week I was happy to open my email and see that we have a new submission to 5 O' Clock Friday's.   This week my friend India sent in three pictures of her boys-  Brooks and Mark Wesley playing trampoline basketball. 
Now I have to say that I have never heard of trampoline basketball, but after looking at these pictures, I couldn't help but have the urge to want to try.  It looks like a LOT of fun.    I wonder if they'd let me play?  
Thanks so much India for sharing these fun pictures of the boys-  I  remember when they were little guy's and it's hard to believe that they're so big now.   Time certainly flies.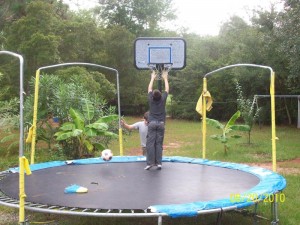 If y'all want to share your own 5 O' Clock Friday's pictures, it definitely isn't too late.   If you've put them on your own blog, let me know and I'll link you- otherwise- feel free to send them to me at lori (at) this website (simplywizardress.com).    It's always fun to see what people are doing around the globe when 5 strikes.
Thanks again India for sharing the pictures and I hope to see more in the future.