July 4th, 2010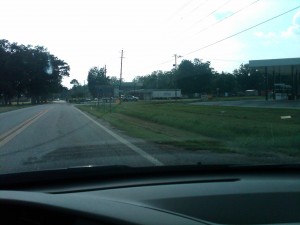 This week for 5 O' Clock Friday's, mom took a picture out the front window of the car since she was driving home from work when 5 rolled around.     Even though I'm extremely familiar with where she works and the area, I'm still unable to place exactly where this is.
She also took a second picture, which was taken a little further down the road.   This time, she told me what the picture was, because at this stage of the game, I probably wouldn't have been able to tell by the picture.   Can anyone guess what it is?   It's the picture on the right..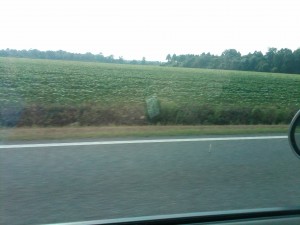 It is obviously a field, but a field of what?   I'll admit that I wasn't sure, because there were no obvious tale-tale signs, but it is a cotton field that's starting to bloom.  I can't wait until it's filled with cotton and hopefully (Hint Hint) mom will grace us with some more pictures of the field.    If you've never seen a cotton field in bloom, you've missed out.  It's beautiful.
If any one else has any 5 O' Clock Friday submissions, please feel free to send them my way at lori at this website (simplywizardress.com).  I would love to see them, and I'll give you full credit (since they are YOUR pictures), or if you have a blog, let me know if you've posted your own 5 O' Clock Friday's entry and I'll link to it so others can see.
Have a Happy and SAFE 4th of July everyone~