April 10th, 2011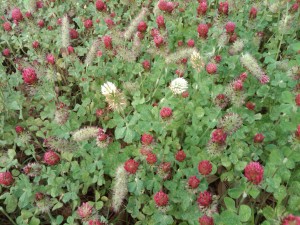 I'm a little late with mom's 5 O' Clock Friday's submission.  Not because she was late- but because I didn't get the opportunity to add it until now.   I haven't spent much time on the computer, so it was late. 
Mom  noticed the white clover in this shot and said she didn't remember ever seeing any of this particular type of white clover- that was like the red, only obviously a different color.    At first I thought it was the same white clover flowers that my brother and I used to pick by the handfuls when we were children, but upon close inspection, I saw that wasn't the case.  
I don't know about y'all- but I absolutely love the smell of clover.
One Response to "5 O' Clock Friday's Submission"