April 2nd, 2011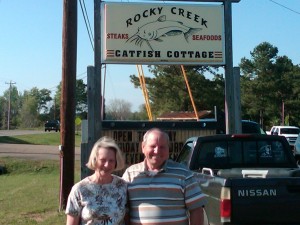 Mom sent me this picture yesterday afternoon for her 5 O' Clock Friday's submission.   She and diddy met up with some friends from church at their favorite catfish restaurant for a little coversation and a lot of food.   Personally, I think she sent this particular picture just to make me jealous- since this place makes some of the best catfish I've ever eaten.    It's also 'see-how-big of -a-pig you can be' 'all-you-can-eat', so eating one or even two catfish filet's isn't usually the norm- regardless of what your intentions are before entering.
When she sent me the picture- I called to make sure that it was ok with the G and D (the people in the picture) for me to post it on my blog- and they gave their permission.
I hope they had a great time- although I know it goes without saying that they did.
2 Responses to "5 O' Clock Friday's Submission"