November 6th, 2010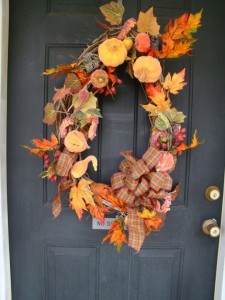 I absolutely love this picture that my friend Beth sent me for 5 O' Clock Friday's.   I think it may even be her own front door, but it reminds me of this beautiful season and brought a smile to my face.   Beth is someone that I've known for MANY years.  We grew up together, graduated high school together and then life carried us down different streams and we lost contact.  
Fast forward 23 years later and I was able to reconnect with her after hearing from our mutual friend (and classmate) Keyra how to reach her.   It was then that I found out about her amazing blog, that always warms my heart and brings a smile to my face. The Broom Closet is the name of Beth's blog and she shares a peek inside her life with her husband and two beautiful (and very talented) children.
Her blog is a tribute to what's important in life- family and family values. I can assure you a trip to her blog won't disappoint. Thanks Beth for sharing a piece of your week with us in the picture and on a personal note- I can't wait to see you. The sushi date sounds fantastic!
2 Responses to "5 O' Clock Friday's Submission"