May 29th, 2010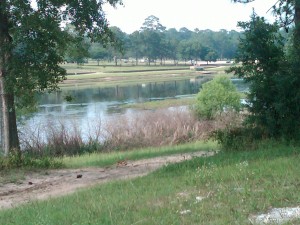 This week's 5 O' Clock Friday's submission from mom is one that I think she took yesterday while on her way to my nephews baseball game.   If I'm correct, this is the Municipal Park in Mobile, AL.   It looks like in the background there is a golf course and even though I don't think I've ever been to this park, but only driven through it,  the area doesn't look that familiar to me.   
The first thing that came to mind when I saw the picture was I wonder if there are any alligators in the pond.   It just seems like somewhere that you'd find a few alligators sunning on the shore.  
If anyone else has a 5 O' Clock Friday's submission, please feel free to send them my way, or let me know where you've posted them, so I can link you from here.