September 1st, 2010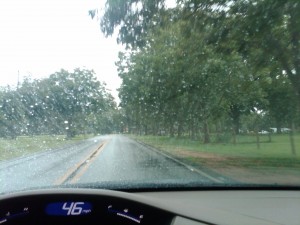 I've actually had this submission from last weeks 5 O' Clock Friday's in my mailbox, but because I wasn't feeling well and no spending that much time on the computer, it fell to the wayside until today.
Mom took this on her way home from work on Friday and as you can see the drops on the windshield tell a tale of what the weather has been like in Southern Mississippi as of late- wet, wet, wet.  
Today is Wednesday, which means that this coming weeks 5 O' Clock Friday is just around the corner.   Start thinking now and I'd love to see your submissions to see what was happening in your life around 5 on Friday.  Send the entries to lori (in care of this website- simplywizardress.com), feature it on your blog so I can link back to your entry, post it on my Facebook wall or whatever will get my attention.