August 27th, 2010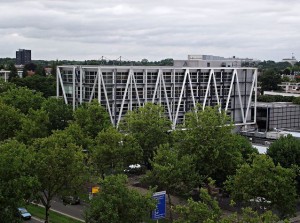 Since my own 5 O' Clock Friday's picture is still on my 'eye' and it's across the room, I decided to share with you the picture that my dear friend Kimmie sent in.
This is the picture from the window of her home and the building is a school.   The recently painted the school and she said that it no longer looks like it's covered in blue painter's tape.
For those of you who don't know my friend Kimmie- you're missing out. She's seriously one of the most creative and talented people I know and you can read about her adventures by visiting her awesome blog named Misadventures of Mub. You will leave her blog inspired and amazed at how talented she is, and if you are still reading this and haven't clicked over to her site, then something is wrong.
Thanks Kimmie for sharing your submission. All I can say is- It's about time. haha :)