May 28th, 2010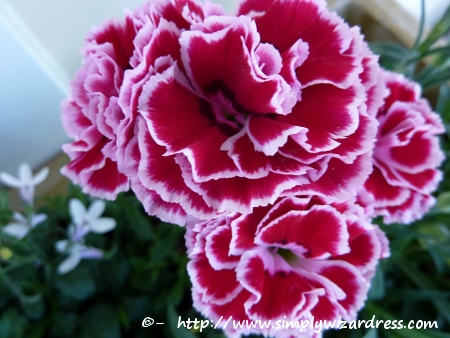 Usually when I take the 5 O' Clock Friday's picture each week, it tends to be something random and a picture of something I'm near at the time 5 rolls around.   Today is different.   I've known for days what I was going to take a picture of for this week's submission (the photo you see on the left), because it has special meaning.   I also spent hours thinking about what I wanted to say, but now that it has come down to the wire- the words have hidden behind the pain that I feel from within.
When I first saw these flowers, I thought they were dianthus.    I was looking for carnations, and they seemed to be about half the size of a carnation, but yet when I leaned my head over and took a whiff; they smelled like carnations.    I concluded that they were mini-carnations,  and proceeded to buy the ones that you see pictured here,  along with a white one.       I bought them in memory of Carol.   They were her favorite flower, and nothing made her happier than a bag of chocolates or a bouquet of carnations.   When I look at them or smell them, I think of her.    Not that it's the only time I think of her, because I tend to think of her several times a day.  I still have a hard time believing that she is no longer walking this earth, although I know it's true.
Today would have been her birthday.   May 28th.   I have many memories together with her on her birthday and also mine.  So today, in honor of Carol, in honor of her birthday, the picture isn't random but taken in memory of someone who will live forever in the heart of those, like myself, who loved her.
On another day-  when the pain is less and the words are closer, I'll share more, but today-  this will have to do.