July 23rd, 2010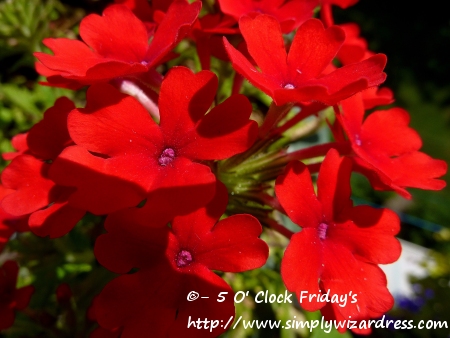 This week when 5 rolled around, I had just finished with work.  I grabbed my camera and decided I'd take something close because I had to get a bath, get dinner going, plus get ready to go visit a friend of Marcel's a little later on.   I didn't have a lot of time, so ended up taking several pictures and this is the one that I ultimately chose and decided to share.
I was actually very surprised when I viewed this on my computer because the red was not over saturated.   Anyone who has taken any number of pictures would probably know that red tends to over saturate, especially in direct sunlight, which is where these little beauties were.     Since I was in a hurry- I took it on an automatic setting, again, surprising me that it wasn't 'too' red.      In spite of the way they appear in the photo, these flowers are actually about the size of a fingernail of a woman's pinky.  
I'd love to see your submissions for 5 O' Clock Friday's, so please either send them to me in care of this website to lori via email lori (at) simplywizardess.com  or if you share on your own blog- please feel free to let me know so I can link back to you.
I hope everyone has a fantastic weekend.   Things have been extremely busy here and I'm finally seeing a slow down coming- which will begin tomorrow afternoon after I'm finished working.    Before that time, we have birthday parties to attend and people to visit.    I'm never one to wish away my time- but I'm ready for some down time.