July 3rd, 2010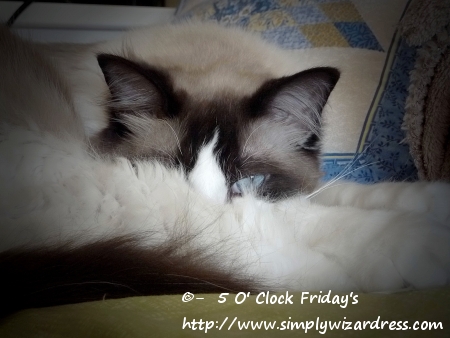 Yesterday at five, I was still sitting at the computer tap-tap-tapping away at work.    The always gorgeous Mister Mistoffelees was right beside me in the 'office', which yesterday found its place in the guest bedroom.   I took a quick break to grab a few shots of him, and this one was my favorite.  I loved how one eye was showing and he was looking at me as though he were saying- "Can't you see I'm trying to sleep here?"    I did allow him to go back to his nap, and he stayed in that part of the bed for another hour or so, long after I'd got up to get dinner ready.
I have more submissions but don't think I have time to share them before our friends arrive, so I'll post them later.
In the meantime, if you have a submission, feel free to send it my way so I can share.
One Response to "5 O' Clock Friday's"