June 25th, 2010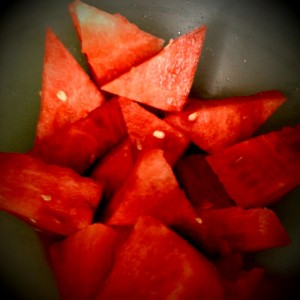 This afternoon when it became time for 5 O' Clock Friday's, I was actually getting dinner ready, so I didn't get a chance to take a shot until a little later.  In fact, I got carried away with dinner and when eating dessert,  I happened to think about being a little late, so I used the "eye" and took these couple of shots. 
I bought this watermelon today.   The guy at the store was offering samples, and it was so delicious that I couldn' t resist.   Marcel is not a huge fan of watermelon, which means that I'll probably be the one to end up eating most of it.   I don't mind.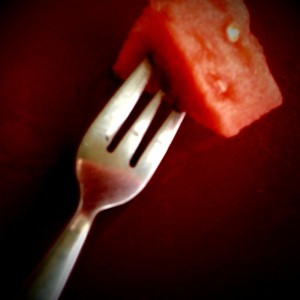 I ate several pieces for dessert, and there is a HUGE bowl left over that I'm sure I'll consume over the  next couple of days.   It isn't a melon from the Gulf Coast, but instead, a melon from Spain.  It looks to me like they know how to grow them there as well.  
In spite of it's small seeds, this watermelon is actually considered to be seedless, so it's easy to eat the seeds.   They are good and in fact, I'm thinking that maybe I should have another piece or two before I jump in a bath to cool off.     In case you haven't heard, we are having a heat wave. :)
For everyone else-  Please feel free to send your 5 O' Clock Friday's pictures my way.   Either email them to me at lori in care of this website (simplywizardress.com) or link them from your blog and let me know so I can check it out, plus, so I can share it with others.   Plus feel free to pass the word about 5 O' Clock Friday's.  After all, the more the merrier in terms of participation.  It's also fun to see what people are doing at 5 on any given day, especially on Friday- which is the beginning to our weekends.
7 Responses to "5 O' Clock Friday's"