June 18th, 2010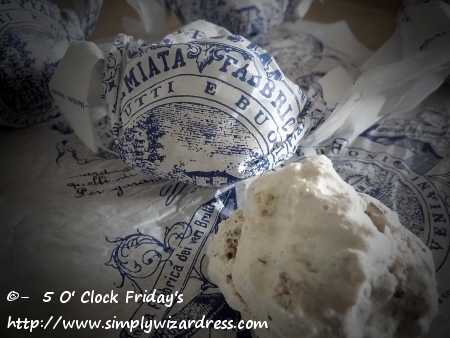 This weeks submission was based on inspiration I received after eating one of these little cookies.  To tell you the truth, I'm not even sure that they would be considered a cookie because they are more like little meringues with chopped hazelnuts and maybe something else.    Whatever they are- I have to say they are probably one of the best sweet treats I've ever eaten.
They are made in Italy and one package contains two bite size pieces of the 'cookies'.    You definitely can't eat just one, which is probably why I've eaten several.    
They were given to me as part of my birthday goodies by a dear friend who will be leaving next week, along with her husband and adorable baby to visit her family in New Zealand.   She won't be back until after my birthday, so she wanted to give it to me before she left.   
I wanted to share them with you, and this is my way of doing so.   If you happen to stop by, I'll give you one (provided you act fast before I eat them all) along with a cup of coffee.  
Don't forget your submission for 5 O' Clock Friday's.    Just send a picture that you take around 5 (can be either a.m. or p.m.) and then submit it to me at lori @ this website name (simplywizardress) .com.   I'll add them in an entry.  If you have your own blog and add it there- let me know where to find it and I'll link it here so I can share with everyone else.   I look forward to seeing your submissions.   After all- the more the merrier!
5 Responses to "5 O' Clock Friday's"