June 4th, 2010
I know I've been pretty quiet this week.  Not really from lack of things to say, but more because I've really only spent a little time on the computer that wasn't work related.   I usually turn my computer on first thing in the morning while the steel-cut oats are cooking and the coffee brewing, but this week has been the exception.   I've spent most of my time on the sofa and because I haven't felt like turning on the computer until I needed to, I haven't.
I'm on the mend, but doing anything leaves me feeling exhausted.    Marcel had mentioned that the circus is in town, and I was determined to walk over and see the animals.  I am not a fan of the circus, but I usually go so I can pet the animals and bring them some vegetables are bread.    I guess they got tired of people bothering the animals, because this year they have them roped off so no one can get near them.   I think those circuses are cruel, but I find some sort of solice in being able to give them a little attention and love.   It may not mean anything to them, but I'd like to think that it does.
My favorite of all the animals are the cats.   If I thought for one second that I could get over that cage and to that railing without getting arrested, I would go pet those cats.  They're beautiful, magestic and I love them.    Yes, I know they're dangerous, but I'm not scared of them and I think they would know that and we'd have a mutual respect for each other.   Sadly, I didn't get the chance, but maybe one day.
Today at 5 O' clock, you would have found me at the circus- with two of my favorite guys-  Marcel and JJ.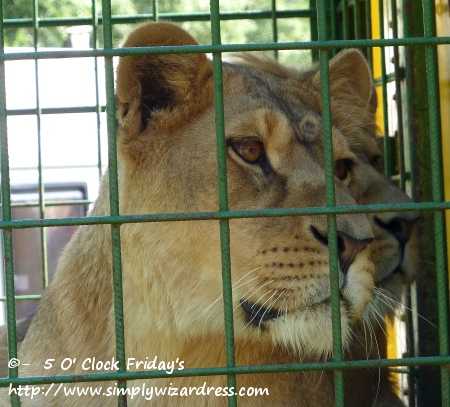 2 Responses to "5 O' Clock Friday's"