March 11th, 2011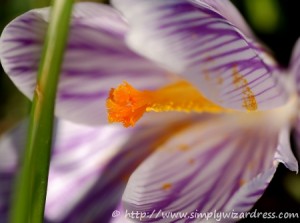 On the way home from the beach today- I noticed a patch of crocus starting to bloom in a field at the park by our home.   While Marcel took JJ inside to clean him up, I headed down the street with the Nikon in hopes of capturing a little "Spring".  
I get excited when the crocus start blooming, because it's a sure sign of life and that Spring is here.  
I rushed across the street and found a spot devoid of  'doggie doo' and laid down in the grass.    There were people passing by and I'm sure they thought I'd lost my mind, but truth is- I was focused on the flowers and didn't notice if they were noticing me or not.   I honestly didn't care- I was on a mission for 5 O' Clock Friday's.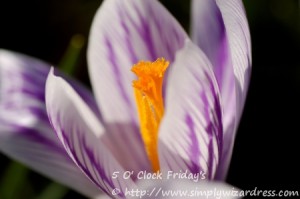 I ended up taking about 20-30 pictures in that one little space.  I loved the way the light of the sinking sun was playing against the delicate petals of the crocus, and how the yellow centers almost seemed to glow.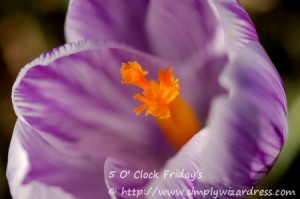 When I came home and uploaded the pictures (which also included shots that I took at the beach today of JJ playing with his frisbee, I wasn't sure how I was going to choose one or two from the ones I'd taken.  
I decided that I'd choose my four favorite and add them to this little space. 
Today I'm celebrating Spring.  As Marcel and I were coming home from the grocery store earlier today- two words struck me and brought a smile to my face.   It's simply-  "I'm Back."    So look out!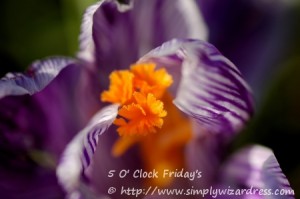 I look forward to seeing YOUR 5 O' Clock  Friday's submissions for this week.   Participating is pretty simple.  Take a picture (or two-three- etc.) at around 5 either a.m. or p.m. on Friday.   Email them to me at lori in care of this site (simplywizardress.com) OR if you're a blogger- add them to your blog and let me know about it so I can check it out and also so I can link your blog from here and share with the masses.
Look forward to seeing what is happening in your corner of the world at 5.  
Happy Spring!
3 Responses to "5 O' Clock Friday's"