March 4th, 2011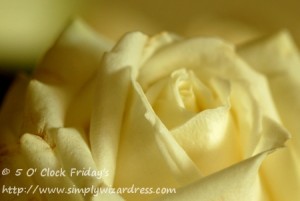 This week when five rolled around, I was actually feeling a little inspired, so rather than grab the "eye" (iPhone) as I have been doing lately, I actually pulled out the Nikon and my favorite Tamron lens and thought I could see what I could come up with.  
We actually had sunshine today- for the third day straight and even though the mornings have been grey and the sun doesn't actually break through until early afternoon, it's still sun and a sure sign that Spring is coming.   The sunshine also means warmer days are ahead and overall good things in general.   After a rough few weeks- I'm ready.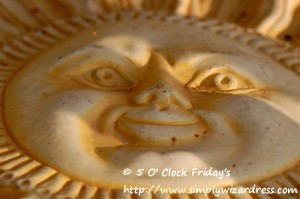 The rose is a remaining glimpse of the ones Marcel brought me last week.   Not long after the picture was taken, Marcel cut them to pieces and threw them away.  It was time, but they were breathtaking and lasted quite some time.
The picture to your right is a sun that I usually have hanging outside during the Spring and Summer months.   Right now it's lying on the bench on the terrace so it wouldn't get broken in any storms during the Winter months.   I have this love of little sun's and this is one of my favorites.   As you can see- he's smiling-   very similar to the smile that has been on my face at seeing sunshine for three days in a row.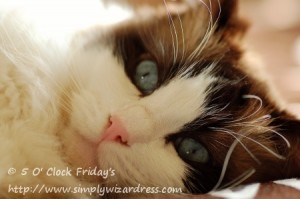 Last but certainly not least is a little shot of Mister M. who happened to be 'posing' for a picture on the bed.    He knew I had the camera, and just after I took this shot, he yawned.  Wouldn't you know, I missed it.   It would have been a great 'fierce' picture, but maybe next time.    I wasn't the only one who was happy to see the sunshine.  I've been finding him lounging in it for hours at a time the last couple of days.  One afternoon, I even joined him.
I hope y'all will join me this week in sharing your 5 O' Clock Friday's pictures with us.   Take a picture (one or more) at around 5 (either a.m. or p.m.) on Friday and send it to me (lori) in care of this site (simplywizardress.com) and I'll share them here.    If you prefer to add them to your blog-  just let me know about it so I can check it out, plus I'll link you from here.
As always- I look forward to seeing what everyone comes up with- and I also appreciate your participation.
One Response to "5 O' Clock Friday's"