October 16th, 2010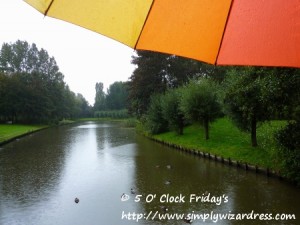 Yesterday when 5 rolled around, I found myself caught in a downpour.  Marcel and I decided to head out with JJ and since it was sprinkling at the time, we decided an umbrella would be wise.  We didn't get far when it started pouring and I for one, was glad that we had it with us.  
I decided to stop on the bridge and take a shot looking back towards our home (which is on the other side of the trees on the left of the water).  The ducks in the water gathered when they saw that we were stopped on the bridge, since they're conditioned to receive bread from passers-by.
If you'd like to share your submission for 5 O' Clock Friday's it isn't too late.  Just email me your shot to lori in care of this website (simplywizardress.com) and I'll share it here-  If you prefer, you can also post it to your blog, but be sure to let me know so I can share the link here.
Up Next- Soup Saturday
One Response to "5 O' Clock Friday's"