September 17th, 2010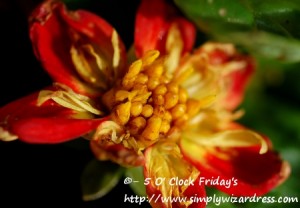 I finished with work early today so I actually took the time to pull out my Nikon for this weeks edition of 5 O' Clock Friday's.   I haven't used it in a while and wasn't really sure what I wanted to take pictures of, but it didn't take me long to figure it out.
These dahlia's are planted in a bright sky blue pot and at the peak of their blooming they exuded happiness.   While they are definitely past their peak, I found one little flower that was still trying to hang on to the last bits of summer- something that I know many of us do.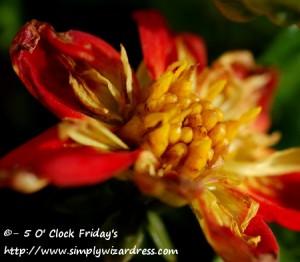 I decided to share three shots this week, instead of the usual one.   They are similar pictures but not exact.   It reminds me of summer day's past- and the fact that we are knocking on the door to fall. 
Even as I type these words- the back door is open, there's a cool breeze blowing through and I'm reminded of my favorite time of the year.   I could spend the entire day outside when we have days like this-     I find it quite curious that for someone who struggles so much with death, that I would find this to be one of my favorite times of the year- a time when things begin to fade away and go into a resting stage.  A time when things have drawn to the end of their season.     I've never really thought about that until now.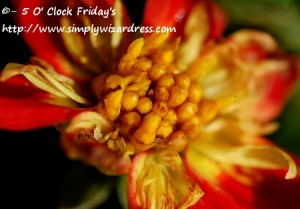 What I do find myself thinking about are long sleeve shirts, cool days and evenings, changing leaves, soup, warm drinks and beauty. 
If you have a photo (or more) that you'd like to share with 5 O' Clock Friday's, the process is pretty simple.  Take a picture at 5-  either a.m or p.m. and then either send it to me via email at lori in care of this site (simplywizardress.com), post it to your own blog (if your a blogger) and let me know about it so I can link you or just share with me where you may have the photo on a Flikr or other site and I'll grab it and share it here- giving you credit- since it's your work.    It's for fun- and not to be taken seriously.   Just snap a picture of whatever you see at that time.   It's like giving us a snapshot of a part of your day.
2 Responses to "5 O' Clock Friday's"