May 8th, 2010
I have to say that this week has brought my favorite 5 O' Clock Friday's photo to date. I'm not sharing the picture here, but what I am going to do is direct you to my friend SummerWind's blog named WildStorm. There she shares a photograph that I personally believe should be printed and framed.  It's of her adorable son.
The second submission was submitted by none other than my dear mom, who obviously sent this picture to torture me and make me wish I'd been with them while they were chowing down at the local Chinese. I guess the term eat your heart out would be true to form for this picture. Good thing it's dinner time.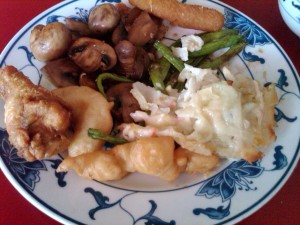 Feel free to spread the word about 5 O' Clock Friday's and help me get the word out for next week.  The more participation, the more fun.  IF you have a submission for this week, please drop me a note at lori in care of this website.com and I'd love to add your submission or website link.
2 Responses to "5 O' Clock Friday Submissions"