September 19th, 2010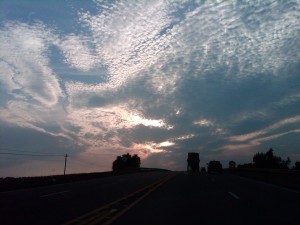 Mom and diddy were actually at the hospital during the time that 5 O' Clock rolled around and even though she actually did send me a picture, I decided to share this picture she sent a little later.   I love the way the sky looks and as you can see- fall is on its way because there are less daylight hours. 
Thanks mom for sharing, and you need to get diddy back to sending 5 O' Clock Friday's pictures.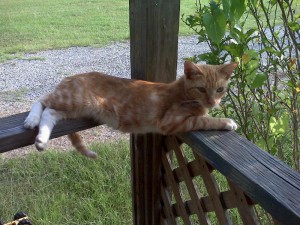 In addition, my friend India sent in a picture of her cat Tiger, who found a great place for a little rest and relaxation. I thought this was so cute and I couldn't help but smile.    Something else that I couldn't help but notice about Tiger is the white back feet and tips of white on his /her front feet.   Cute Cute!!
If you would like to participate in 5 O' Clock Friday's (the more the merrier), please take a picture around 5 (either a.m. or p.m) on Friday's.    Email it to me at lori in care of this site (simplywizardress.com) and I'll share it here.   You can also let me know via comments or email if you share the picture on your own blog and I'll link you from here.    If it's a little earlier (or later) than five- that's ok.  We are pretty laid back over here.
One Response to "5 O' Clock Friday Submissions"