June 18th, 2010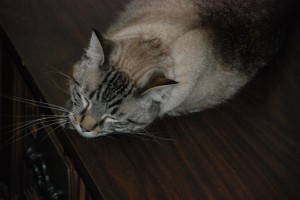 Earlier in the week, my friend Deanna sent me these two pictures to be used in 5 O' Clock Friday's from last week.   Unfortunately, I didn't see them until later, and then got busy and I'll admit I forgot all about them until a little while ago.   Since it IS Friday, I thoguht that now would be an appropriate time to post them, even though they are a week late.
I love both pictures.  The one of the kitty just makes me smile, because as  you all know, I love cats.  Plus the one from their game evening looks like fun and makes me wish that I was there to play with them.
Don't forget that you can submit your 5 O' Clock Friday pictures by either emailing me at lori at this domain name dot com, or you can share them on your own website and if you let me know, I can link you.