June 20th, 2012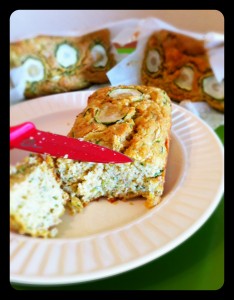 I belong to an online "foodie" group with some friends- and last month I thought it would be fun if we started doing a food challenge twice a month.  It started in June- and our first 'assignment' was to make a savory dish using zucchini.
I went back and forth on what I wanted to make and finally narrowed it down to two recipes-     Then I went back and forth on which one of those to make-   In the end, I decided to make them BOTH.   The one on your right is zucchini cornbread-   I guess that spoke to the Southerner in me, and it was a breeze to make.  I made a couple of modifications to make it 'healthier' but with the butter- it was anything but.   I tried it-gave some away and Marcel ate the rest- It was a huge hit and really easy to make.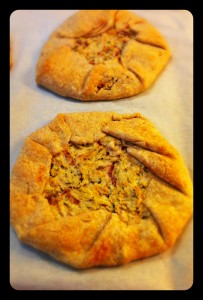 The picture to your left was my second submission and also much more time consuming to make.  Not hard by any stretch of the imagination, but it took time:   Zucchini, Lemon, Ricotta Galettes which I adapted from a recipe that I found on my Epicurious app-    In fact, both recipes came from there and I'm sure they are great on their own- but I tend to change most recipes, so I modified this to suit my fancy.    It was also a HUGE hit-   The pastry was gorgeous and flaky-even though I wasn't sure how it would turn out- because the recipe called for 2 cups of all purpose flour and I used 1 cup Spelt flour and 1 cup whole-wheat.    I wasn't disappointed and Marcel loved them too.
The food challenge for the end of the month will be a little tricker-   baklava..   :)
2 Responses to ""