February 15th, 2012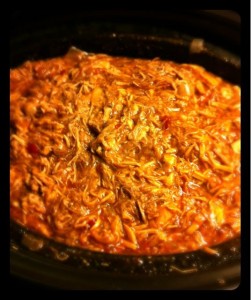 Aside from a hair appointment that I had on Monday- I have been somewhat of a hermit inside the house- trying to get rid of this vertigo.   Anyone who ever said that there was anything fun about being a 'dizzy' blonde has never been one in the literal sense, as I can assure you- that the spinning sensation has been anything but fun.
While I was out Monday- I did go to the grocery store and picked up some much needed grocries and also some pork loin that was on sale for a great price.   I knew it would be turned into BBQ pulled pork the moment I felt like getting it ready for the crock-pot and today was that day.
I browned it a little first in a dry skillet and to speed up the cooking process in the 'slow' cooker, I added boiling hot water to it as opposed to allowing the heating element do that for me.
I added the pork, water, pepper, onion and a little garlic and left it to slow cook on high most of the day.   When I checked on it and it was falling apart at the touch of my fork- I knew it was ready.  I fished it all out with a slotted spoon then proceeded to shred it with a fork.    In the meantime- I used a soup ladle to pull out most of the broth (which I kept and will freeze, since it's perfect for soup) and then added the pork back to the crock pot.    From there I added a bottle of Sweet and Spicy- Sweet Baby Ray's BBQ sauce, which I thought would be enough- but it wasn't so I added some more til it was what we consider to be the perfect amount of BBQ sauce (that varies by person).     I then left the lid off the cooker and left it on high to thicken up on its own.    This was not long before I turned it off and put it in a Tupperware bowl to cool.
Tomorrow I'll dish it up in smaller containers and stick it in the freezer.    It's perfect for sandwiches and because I used a lean cut of beef- it's pretty guilt free.