June 4th, 2009
Last week, Marcel and I had the opportunity to attend a production of the now widely produced James Still play entitled "And Then They Came For Me… Remembering Anne Frank". When I think of the thousands of books that I've read over the years, the one that has probably touched me the most is The Diary of Anne Frank– so to have the opportunity to see this performance by the International School, in a town not far from here was something I didn't want to miss. I really believe that the Holocaust is something that should never be forgotten, and that all generations should be reminded, so that such a horrific tragedy never happens again.
I later found out that Anne Frank's step-sister was going to be attending the event and answering questions afterwards. What I didn't realize at that moment, was that Anne Frank's step-sister was also a survivor of Auschwitz, with an amazing story of her own to tell.
Even now, when I think of what so many endured- I cry. Anne Frank, Eva Schloss and their subsequent families are two families out of MILLIONS who were affected. But, I digress.
What you may not have realized, is that my mother-in-law was also born in Amsterdam, and was a child during World War II. Her family was not Jewish, so you may think they didn't suffer, but what little she's told me about that time period (She won't hardly discuss it), was that there was nothing to eat, and many times when there was no food- the only thing they had to eat was tulip bulbs, because there were always tulip bulbs to be found.
Back to the event- and Mrs. Schloss. When we entered the school- there were chalkboards which had been covered and decorated, all with photos and various items from World War II. When I saw the faces in the photos, I knew that it was someones brother, father, mother, sister, sibling, friend.
I found myself wondering how anyone could survive such torture and filth, and come out on the other side and be capable of living a 'normal' life again. I wondered so many things…. and still do.
Eventually, we found our seats and I nestled myself between Marcel and my friend Bobbi. The play began and I was immediately enthralled in the story. What I loved was that it was interactive- part actual acting by the students at the school, and other parts were video messages from Eva Schloss, and also Anne Frank's first boyfriend, Ed Silverberg- reliving the horrific events in their own words.)
The story was amazing, and yet painful to hear. I cried. Truth is, I was just short of going into what some people call the "Ugly Cries" when you are pretty much boo-hooing your eyes out and sobbing hysterically. I really don't know how there could have been a dry eye in the building- the story was that powerful. It's a story that needs to be told, again and again.
I really would love to tell you about the entire experience AND the story of Eva Schloss, but instead I'll say that she became to be Anne's step-sister after the war. She and her mother were the only two survivors from her family- her brother and father both murdered. Otto Frank was the only survivor from the Frank family, and after traveling throughout Europe just to get home to Amsterdam, they were eventually united. Otto and Fritzi were eventually married.
I had the opportunity to speak briefly to Mrs. Schloss after the performance, and after hearing her Question and Answer session, and I thanked her for sharing her story, for raising awareness, and for being there with us that night. I bought her book entitled, Eva's Story, which she autographed.
I haven't started it yet, but I would definitely encourage all of you to pick up a copy from Amazon.com.
It's a story of hope, of unbelievable courage and endurance and is a source of inspiration of just how powerful the human spirit is. It also serves as a painful reminder of what was- but a lesson in what we never hope to see again, and that we should ALL be more tolerant of each other, in spite of our differences.
Eva Schloss, I thank you for allowing me a peek into the world where you lost so much, but yet overcame, plus used your own personal experience to educate and empower others. May God continue to bless you, and all those you love. It was an honor.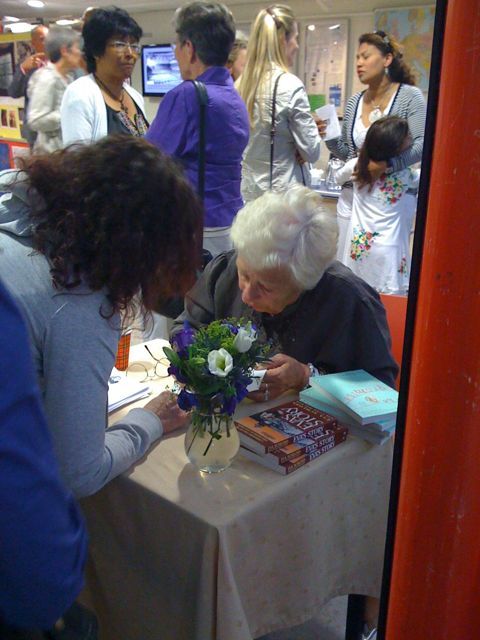 I would also like to say that I believe this production is a MUST for ALL high school drama teams. It's a very serious subject, but a story that needs to be told. If you are a teacher and interested in this production for your own school, contact Dramatic Publishing.
5 Responses to "Her Name Is Eva…"