July 17th, 2011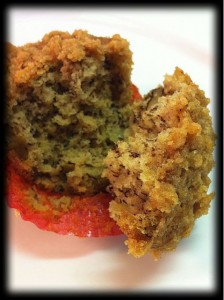 I've been having so much fun celebrating my birthday this month that when I am home it seems that I spend most of my time catching up on my ever-growing 'to do' list.    I know that once this month is over that there are a gazillion other things that need to be done, but right now- I'm trying not to think about those too much and instead have been focusing on my birthday month and having fun.
I planned to stay home today and that's exactly what I've done.  I slept really late- and I don't feel one ounce of remorse or that I was wasting my day- because obviously my body needed it.   I loved every second of it and when I got up I had brunch and two cups of coffee before checking into the 'cupcake kitchen' and getting busy.
I had three bananas that either needed to be put to use or tossed in the trash.   They were just the perfect stage to make Banana Nut Crumb muffins, so that's exactly what I did.    Marcel had two for lunch and aside from one that I saved for Desere, he's taking the rest to work tonight to share with his colleagues.  I hope they'll enjoy. 
I also made some orange curd (my first time) that I hope to use as a filling for some cupcakes I plan to make sometime this upcoming week.  They are a test recipe so that I can serve them on our Tapas Day, which will be the last of my birthday celebrations and held on the 30th.   I'm looking forward to it and everything in between.
I hope that you are having a great weekend yourself-  What has been keeping you busy this weekend?