July 11th, 2011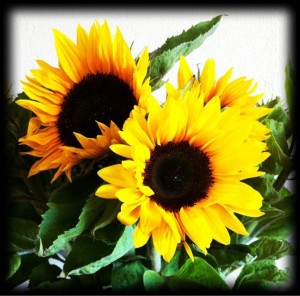 After doing our usual Monday morning grocery shopping- Marcel said he needed to go out for a little while to pick up a few things and off he went.
Twenty or so minutes later- he arrived home with a huge bouquet of sunflowers in his hand- and a card.   He knows I love sunflowers and wanted to make sure that I had some for my birthday (even though it's not until tomorrow).   He even picked a card out that is in direct proportion with the cross roads I've found myself on, so I couldn't help but smile, since I knew he'd not just grabbed a random card, but chose something that he knew would have meaning to me.
He also took the day off from work tomorrow so he could spend the day with me.   I didn't ask- he surprised me with it.    It is the little things in life- that warm my heart the most and leave me with a smile on my face.
Right now-  I have a date with my Kindle and a hammock.   It's perfect weather and I need a little relaxation break. I've got a busy week ahead.
One Response to "The Little Things.."