July 10th, 2011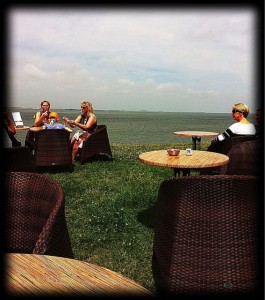 Today Marcel and I did something that we haven't done in a long time-  We went for a drive.    It has been a beautiful day- and I'm feeling somewhat in a festive mood so we took JJ, grabed the Tom-Tom navigation system and off we went.   I wasn't sure where we were going, but I did have a general idea.   JJ knows that when he gets in the car he's going on some sort of adventure so he was happy and content to lie on the floorboard in the front until we arrived at the furthest point we could drive.
We got out of the car and walked along the rocky coastline- and then walked up the hill to the restaurant- which is appropriately called Land's End.     Neither of us were starving, but we also hadn't had lunch so we decided to split a sandwich- sharing a few bites of smoked chicken with JJ, who was more than happy to be included in the feast. 
JJ was surprisingly calm, considering the amount of dogs that were running around the area and once we were finished we walked along the shoreline a little longer, walked along a pier and headed back to the car.  We took the back roads on the way home which led us through various quaint villages.  It was a nice afternoon and I hope we'll do it again in the very near future.
How are you spending your Sunday?