July 8th, 2011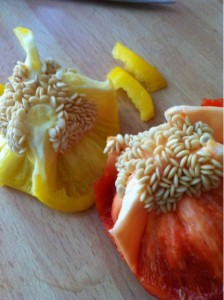 This week has flown by with warp speed and tomorrow is my 'pre' birthday dinner with Hein and Desere.  It's an annual tradition- something that we started probably around the time I turned 40, maybe even before that since I can think of more than four restaurants that we've eaten at over the years around my birthday, so I can't exactly remember where the tradition started, but I digress.
Tonight- dinner will be cooked and served by none other than yours truely and this weeks 5 O' Clock Friday's shot is a quick one that I took with my iPhone of the seeds in the peppers that I'm going to sautee with mushrooms and add to some herbed quinoa salted with smoked sea salt from Denmark. 
I love the way bell pepper seeds look and even though the lighting wasn't perfect and it was a quick shot- I liked the way it looked.
Dinner won't happen til 7 tonight- since Marcel is snoozing and has to work.  I'm looking forward to a nice, quiet evening at home.