June 12th, 2011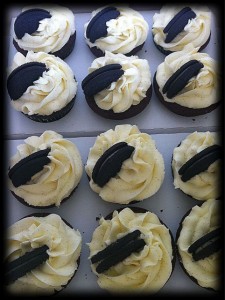 Since JJ had surgery on Friday and with me trying to keep a close eye on him and make sure he's doing ok-   in addition to my everyday things and working out; life has been pretty busy around here.
I'd promised Marcel a week or so ago that I'd make him some cupcakes to take to work, so we agreed that he would take them tomorrow.  When I asked him what kind he'd like me to make- he looked at me as though it were a no-brainer and said "Oreo". 
You may remember me making them several weeks ago- along with the Lemon Meringue.   Marcel loves chocolate, so the Oreo's were definitely his favorite.     I made them this afternoon- and to your left is half of the finished product.  He's taking these 12 to work with him in the morning and the other dozen will stay here.    He ate one this afternoon and Desere also had one.   So far I haven't given in to temptation and I'm pretty determined not to.
I like the way they turned out.  Now I just hope his colleagues will enjoy them.   I still have 10 left- if anyone wants to stop by.
4 Responses to "Busy Little Bee"