June 7th, 2011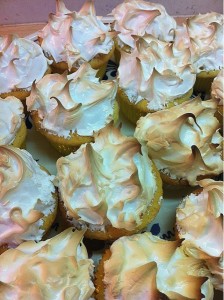 I mentioned a few weeks ago that rather than think about all that was happening around me at the time that I went into the kitchen wth two new recipes for cupcakes to try.   I was determined to keep my mind busy and since old familiar recipes can be quite mindless- I decided to keep the mind occupied, I needed a challenge.
I'd already decided that I was going to make Oreo Cupcakes- and I'd come across several recipes, but in the end, I used my old faithful chocolate cake recipe (that I've been making since I was 11 or so) and turned it into Oreo cupcakes.    I skipped the usual chocolate frosting and went with something else-  buttercream with vanilla beans and a piece of Oreo on top.   Marcel loved them and raved about them for days. 
Obviously this picture to your left is NOT Oreo Cupcakes, but instead something else.   I also decided I wanted to make a cupcake version of an old favorite pie of mine and diddy's-   Lemon Meringue.    I'd love to be able to say that the idea was an original- but it didn't take more than a quick trip to Google to find out that it wasn't.  I found several recipes- but I had a particular idea in mind- none of which quite fit the bill in the recipes I was reading.
I wanted a lemony cupcake- with a lemon curd filling AND the meringue topping.    As it turned out- I used three different recipes for these delicous cupcakes and while I wasn't sure about them the first day-  by the time they had sat overnight and I had one the following morning- I was sold.   Needless to say- this is definitely a 'keeper' recipe and I'll have them waiting when mom and diddy visit later this year. 
I did have some leftover Lemon Curd and since it's only good stored in the fridge for a week- I ate it..  I didn't eat it 'ON' something- I would just grab a spoon full as I'd pass the kitchen.   Neeless to say- it was gone within that week time frame.   Cupcakes were an indulgence and not something I eat daily- or even monthly, especially now that I'm trying to get back into a pattern of living a healthy lifestyle.    Every once in a while though- there will be cupcakes.
4 Responses to "Let them Eat Cupcakes"