May 12th, 2011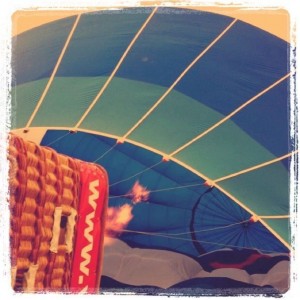 It seems as though I am flitting from one place to the other as of late- not giving me much spare time to spend online or on the computer catching up with my own blog- or some of my favorite blogs.
Tuesday found me checking something off my Bucket List (and also my 101 in 1001 list) and that something was taking the hot air balloon ride.    If you've been reading this blog for a while- you may remember that Marcel gave it to me as a gift last year for my birthday.  
We finally made the trek to the location and I had a blast!    I have SO much to share and tell about SO many things, but life has had other plans for me lately.   I'm hoping to have a little time sometime this weekend (even though we have a lot going on then as well-  birthday parties and soccer finale's to attend) to catch up.  
More from me soon!
4 Responses to "Up Up and Away"