April 8th, 2011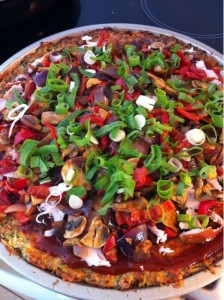 When 5 rolled around this week, I found myself in the kitchen getting ready to stick this (Zucchini Crust- BBQ pizza) in the oven.   This was 'before-cheese', and I can assure you it was delicious- even if I do say so myself.  
I've made it before, and do believe I shared the finished product as one of my 5 O' Clock Friday's pictures a while back.  Marcel loves it, and so do I.  
Since it is Friday- Don't forget your own 5 O' Clock Friday's submissions.  The idea is to take a picture- (either 5  a.m. or p.m. – although I'm not a stickler for time) and then send it in to lori in care of this site (simplywizardress.com) or if you are a blogger- post it on your own blog if you'd like and I'll link your blog from here.    I'll be adding the submissions throughout the weekend, so feel free to send em' in.
2 Responses to "5 O' Clock Friday's"