April 2nd, 2011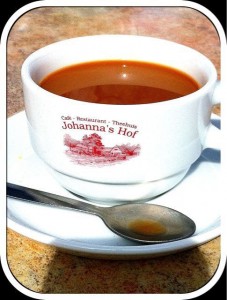 I wasn't actually planning on using my 'eye' (iPhone) to take pictures for the Photo 365 challenge, but when Marcel and I were out today and stopped in at one of my favorite local cafe's in the woods, I decided to take a shot of the coffee.   I have this fixation with making pictures of coffee- I'm not sure what it is, and while this isn't a cup of my beloved Illy, it's pretty good. 
I gave Marcel the little cookie that came with the coffee, but not before having a small bite.    He had cappuccino and a grilled ham and cheese sandwich, which I also had a small bite of.  It wasn't bad.   
It's an absolutely gorgeous day here and I'm enjoying it. That also meant we could enjoy our impromptu visit to the restaurant while sitting on their terrace, where it really is the most enjoyable.   The weather man says the rain is going to roll in tomorrow, so we'd better grab the chance to get out and play while we can.
I have a feeling that I'll be having my after dinner coffee outside this evening-   If you're in the neighborhood- feel free to stop by for a cup and a little conversation.
2 Responses to "Day 2- Photo 365"